Phase II & III – Wang Wenhai
The Power of the Public Realm
Time: Nov.01 – Dec.31,2003
Location: 25000 Cultural Transmission Center
Artist: Wang Wenhai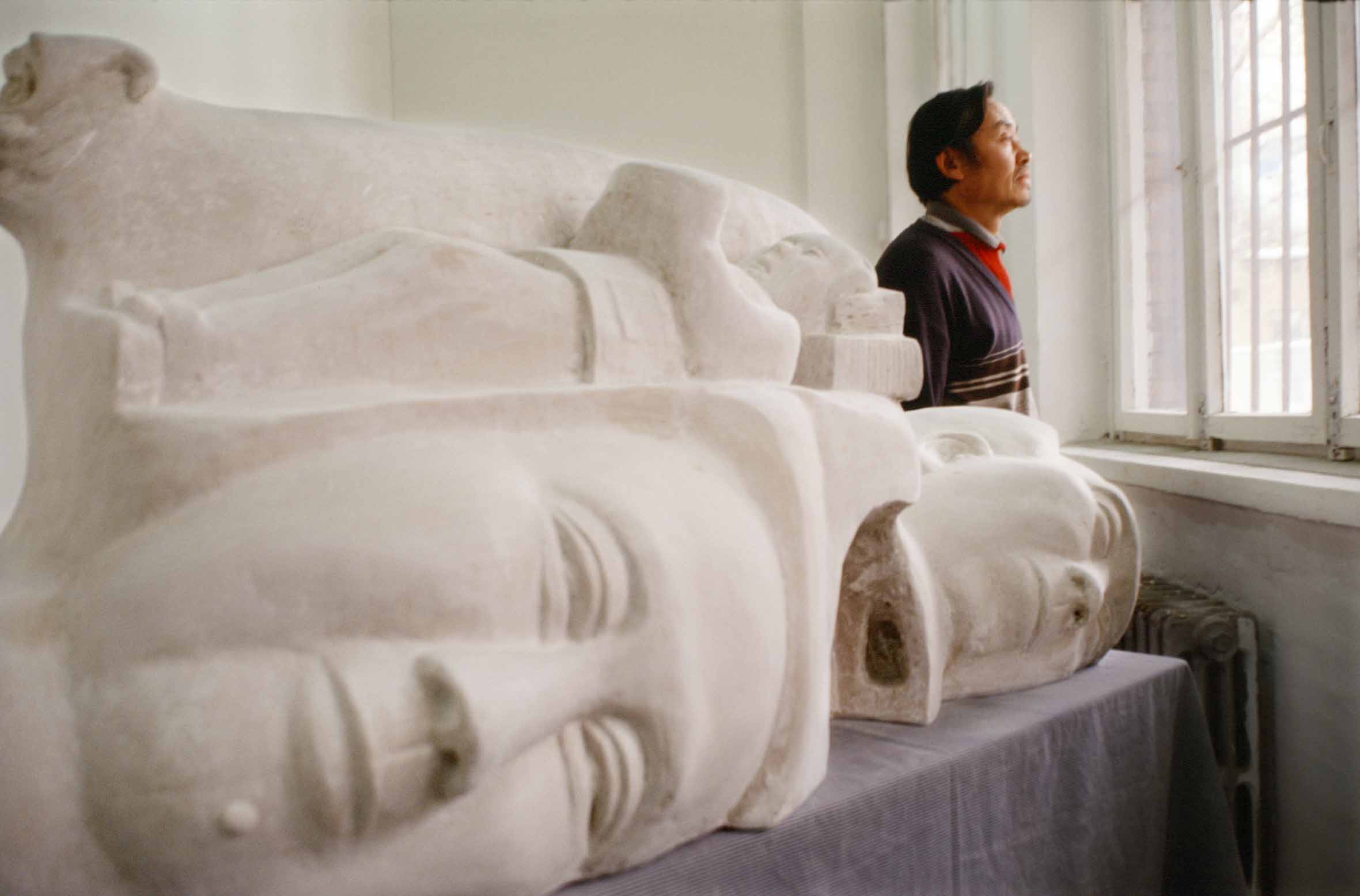 Wang Wenhai and his work "Dragon"
As the thirteenth site of The Long March: A Walking Visual Display, the 25000 Cultural Transmission Center in Beijing is hosting the third phase of "The Power of the Public Realm" throughout December. This show in all its phases has become the core exhibition of the Long March Space, and will carry on indefinitely, marching on in its continual development. In this most recent phase, "Wang Wenhai's Changing Face," Wang Wenhai's sculptures have evolved from traditional public imagery of Mao as a leader or as a God, to images of Mao employing realistic, abstract, and surrealistic forms. Wang Wenhai's new 3.4-meter-tall work, Mao Zedong and Mao Zedong, now stands in the center of the Long March Space. The artist has said he created the work as a gift to Mao Zedong in commemoration of his 110th birthday. Towering over its viewers, the work presents the elder Mao Zedong and the young Mao Zedong standing alongside each other, not arm in arm but rather each with his clay hand grasping a curious real-life umbrella, perhaps in the hope of saving their clay-selves from a potentially hazardous rainfall in Beijing.
In addition, "Changing Face" presents Wang Wenhai's latest work, entitled Dragon. The artist sculpted the work over the past two months in situ at the 25000 Cultural Transmission Center. In Dragon, he adopts the mountain composition seen so often in traditional Chinese sculpture and transforms it into his own arrangement of Mao figures. The ridges at the top of the work form the spine of a dragon, while the valleys create two caves — the Dripping Water Cave from Mao's birthplace and one of the caves in which sacred Buddhist texts are held. Historically, during times of political problems, Mao Zedong would often hide in the Dripping Water Cave, and Wang Wenhai has said that his inclusion of the cave in this work symbolizes "spirit." The cave of Buddhist texts, on the other hand, represents "precious knowledge." The other peaks and valleys of the landscape's composition are made up of twelve images of Mao, both Mao-the-leader and Mao-as-Buddha. (One particular figure is Mao laying in the same position as the Sleeping Buddha). Wang Wenhai's Dragon thus infuses traditional Chinese mountain composition with a surrealist style and Buddhist forms, while at the same time employing a folk flour-sculptural technique.
(Excerpted from the original press release)