Yanchuan Education | Yanchuan County Middle & Primary School Paper-cutting Art Curriculum
Yanchuan County Middle & Primary School Paper-cutting Art Curriculum
Time: 2006 – 2009
Location: Yanchuan County, Northern Shaanxi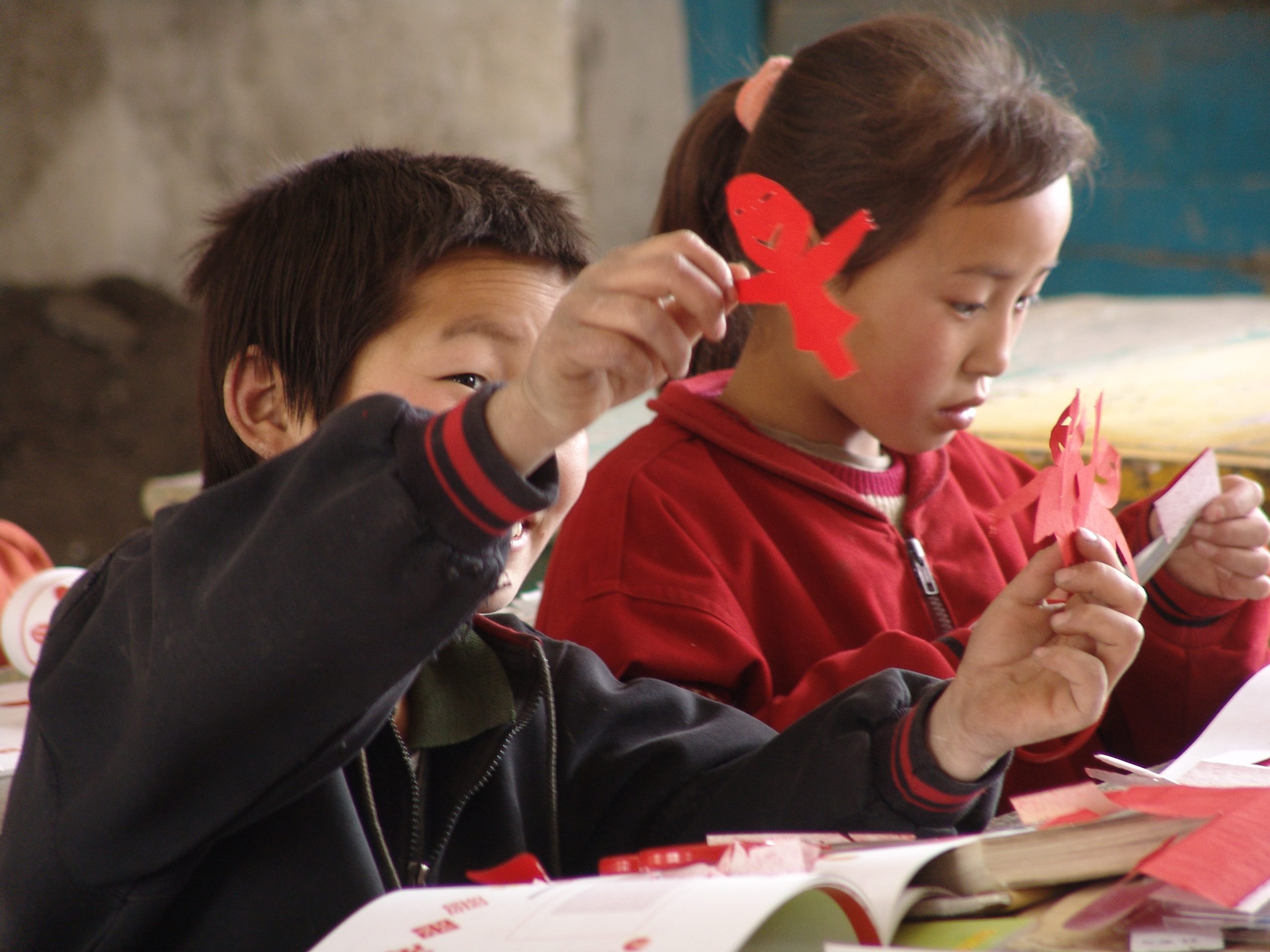 Project Description
The Long March Project is a large scale art and cultural project with a strong social mandate.  Since being initiated in 2002, the Long March has continuously been engaged with examining the social possibilities of contemporary Chinese art focusing on the local and the international, and searching for possibilities through which folk culture and art can effectively express and continue its tradition.  Through programming and action that explores the resources and power of art, the Long March works to ensure the continual development of Chinese culture and the idealistic realization of a new cultural and social construction of the countryside. 
Yanchuan County is located to the northeast of the city of Yan'an.  It is comprised of 8 township, 9 districts, and 346 administrative villages.  The total population is approximately 180,000, of which those who engage in farming comprise 144,000.  Total area is 1,941 square kilometers.  Economically, it is a county in western China wracked by poverty.  However, it continues to preserve a complete system of Yellow River folk culture. 
From 2003-2004, after one year of preparation and research and through with the support and consultation of renowned folk culture research Jin Zhilin, the Long March team traveled to Yanchuan County and worked with the county government to conduct a half year investigation entitled, the "Great Survey of Papercuttings in Yanchuan County", creating a large scale archive of papercuttings for folk art history.  At the same time, through continual promotion and exhibition of the project, the papercuttings of Yanchuan County are already well renowned in 20 countries throughout the world, effectively opening up a door for Chinese folk art internationally, as well as achieving an effective promotion and development for folk art industry in Yanchuan County.
Based upon the results of the 2004 survey, the Long March Project will continue to promote Chinese folk art through the initiation of the Long March Project – Yanchuan County Primary School Papercutting Art Curriculum.  If "The Great Survey of Papercuttings in Yanchuan County" is a large scale investigatory social project, then "The Yanchuan County Primary School Papercutting Art Curriculum" is a pilot art education project whose purpose is to research how ethnic culture and customs are transmitted through the generations, and how folk art can effectively return to people's everyday lives.  The education initiative is not simply about training to produce a specific papercutting pattern.  Rather it is that these seemingly simple papercutting patterns contain ethnic cultural values.  A myth, a story, they are all linked with Chinese traditional culture.  This transmission is effected through a visual method (papercutting) and passed down to the next generation.  This is an invaluable resource to the future development of Chinese culture.  A concern for the art education of traditional art forms is particularly important in our commercialized and material society.  Through the practice of papercuttings it is possible to teach the long history of Chinese aesthetics, as well as its ethical and social values. 
For these reasons, the Long March Project will carryout the "The Yanchuan County Primary School Papercutting Art Curriculum" Project.  The project will be carried out for three years, from 2006-2009.  A pilot program will be initiated in four to six schools in the region.  Utilizing the powerful culture of papercuttings in Sha'anbei and especially Yanchuan, the Long March will organize a papercutting art curriculum as well as youth activities.  Through training primary school students and youths, and their contact and learning of papercuttings, the project will develop their understanding and interest for traditional culture.  Over the course of these three years, we plan to invite leading folk culture researchers and artists to act as consultants and board members for the project who will annually evaluate and give suggestions regarding the project.  The final curriculum will include: An overall outline for primary school papercutting art curriculum, a set of CD's for teaching papercuttings, video and photography records of process, and a catalog which will be presented to the National Education Department and the Cultural Ministry for their consultation and use in developing national education policy.  Aside from this, the Long March project will promote this project through exhibition and lectures throughout China and internationally, enabling more people to understand Yanchuan County's papercutting education policy, the papercuttings of Yanchuan and Yanchuan County. 
December 2007  Official Document Issued
Yanchuan
We have finished the project discussion with the local government on stage 1. We had received the support from the local government after handing in our project proposal. Notice of the "Papercutting Education in Yanchuan County" project implementation code has been released by the government office as a formal decree (2006) No.95. It addresses the structure, human resource arrangement, location for project implementation and the facilities support of the project and helps to build up a solid foundation from local support.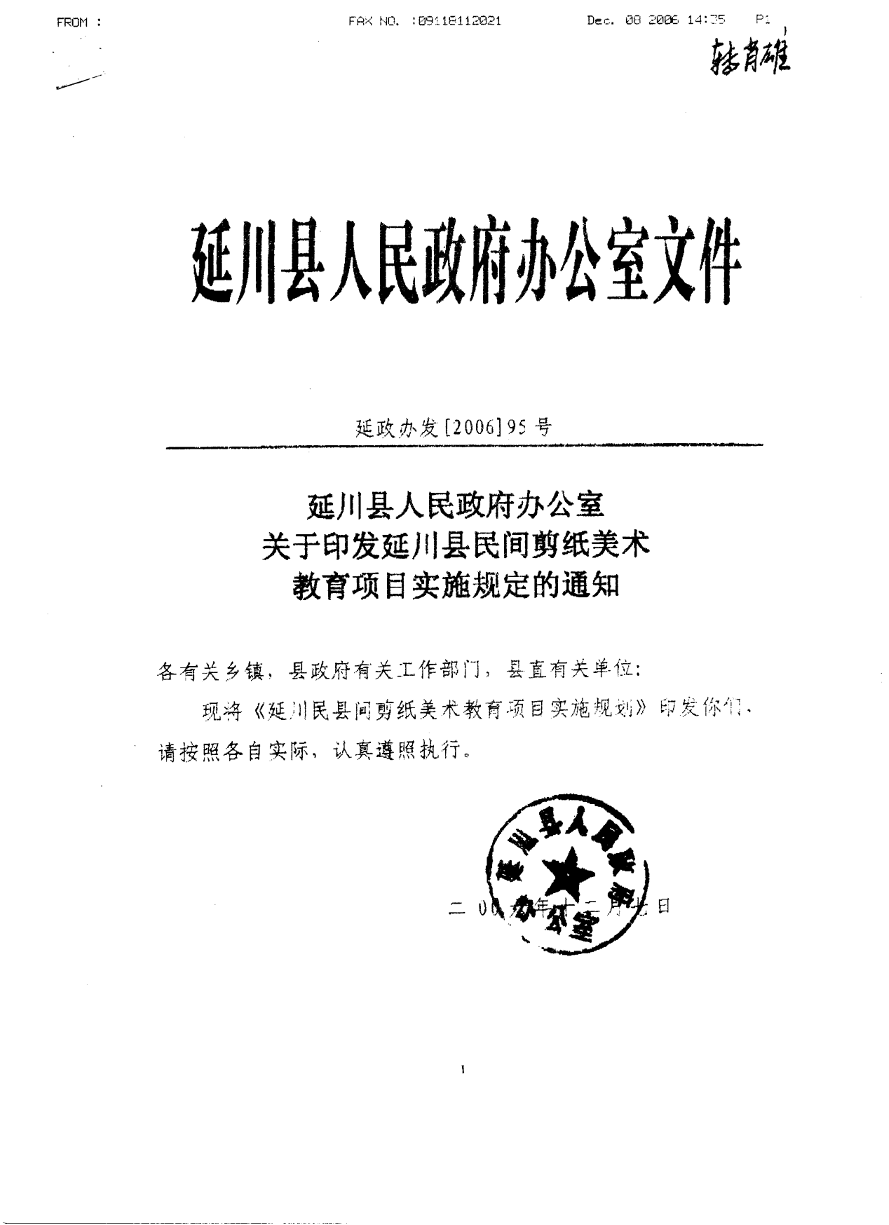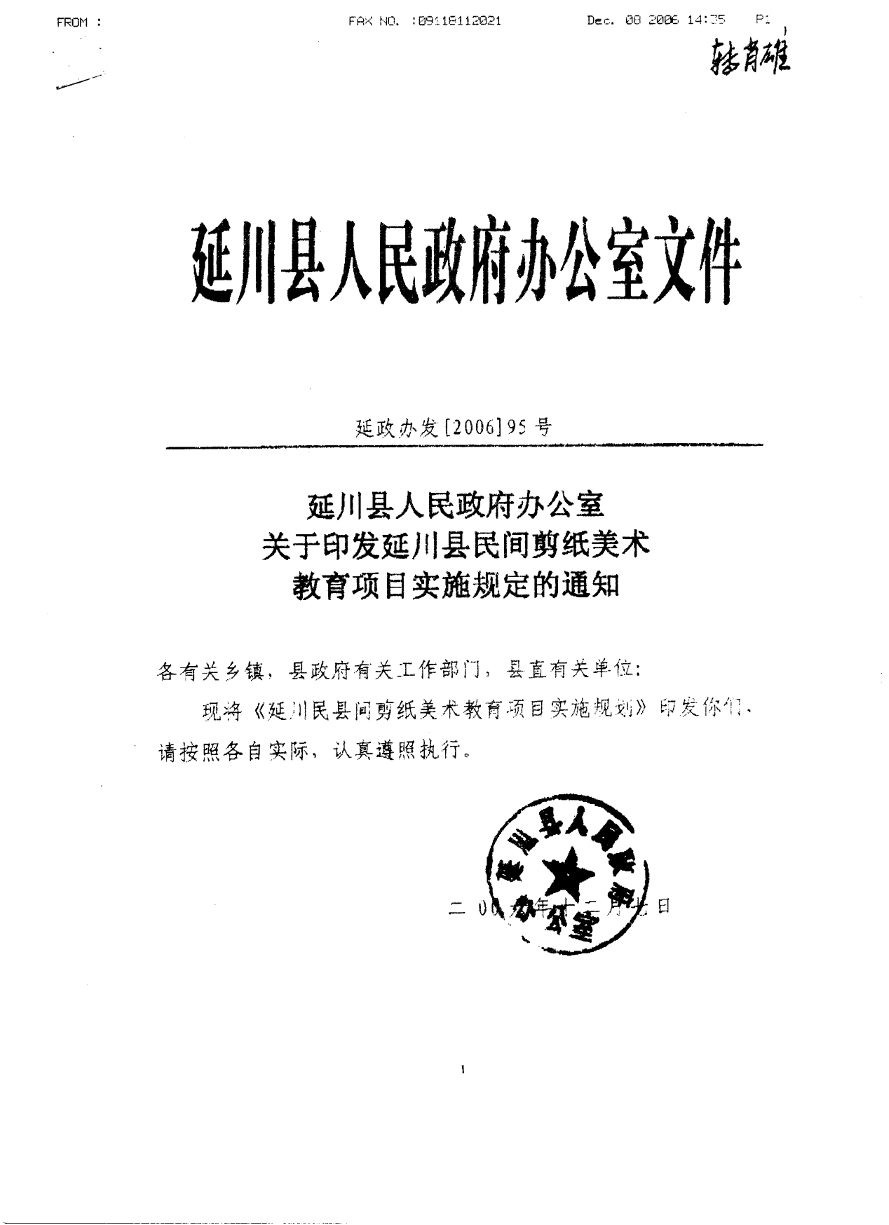 The end of Dec.  Discuss the details
Yanchuan
Long March Project Team will leave for Yanchuan county to have a further discussion about the detail of implementation with local government.
a. Confirm about the exact school for art education
b. Time schedule as well as the list of trainer and trainee