Yanchuan Education | Planning
Yanchuan County Middle & Primary School Paper-cutting Art Curriculum
The Great Survey

— Yanchuan Primary School Papercutting Art Curriculum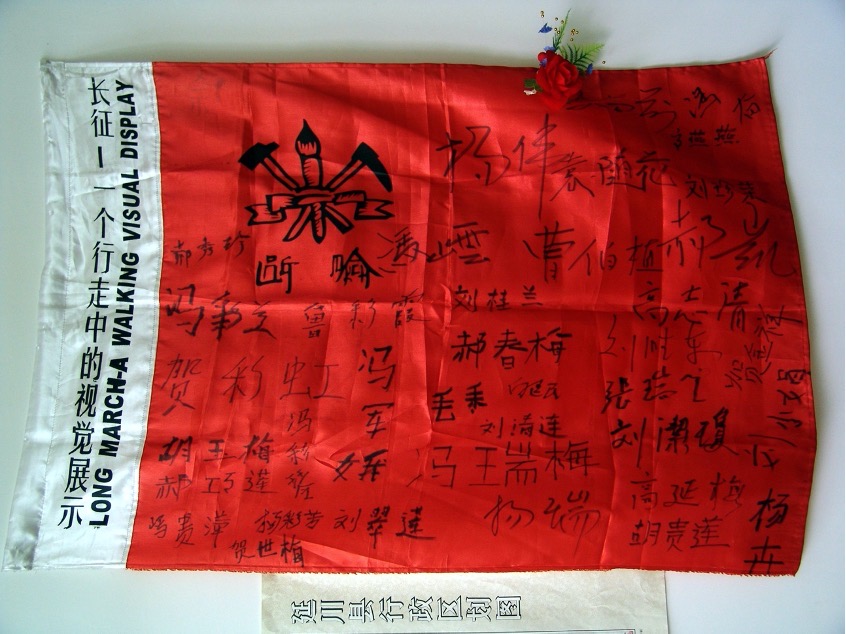 Project Overview
Location
Yanchuan County is located to the northeast of Yan'an city. The county has jurisdiction over eight towns, nine townships and 346 administrative villages with a total population of 169,700 people of which 144,000 are rural agricultural workers; the count cover a total area of 1,941 km2. In terms of economic development, is designated as one of Western China's poverty counties, but it has intactly preserved the original Yellow River ecological folk culture of the Chinese nation.
Yanchuan has a long history. The county was established in the third year of the Reign of Kaihuang during the Sui Dynasty over 1,400 years ago. At that time the county seat took its name from the ancient name of the river that flows through it: "Tu Yan Shui". Yanchuan is the home of Fuxi, one of the legendary fathers of the Chinese nation. The S-shaped bend in the Yellow River in the county inspired Fuxi to invent the Eight Trigrams of Taoism and the theory of Yin and Yang, forming the distant basis for the Yellow River culture. There is evidence of human settlements and societies even further back, and for thousands of years the county was the site of ethnic intermingling and immense transformations, over time developing into the unique culture and historical style of the Loess Plateau. Cloth paste painting, papercutting and other folk-art traditions are among the most prominent forms of a Loess Plateau culture that is exceedingly rich and deep, which has led Yanchuan to be designated as "the hometown of modern national folk art" by the Ministry of Culture.

Based upon the results of the 2004 survey, the Long March Project will continue to promote Chinese folk art through the initiation of the Long March Project – Yanchuan County Primary School Papercutting Art Curriculum.  If "The Great Survey of Papercuttings in Yanchuan County" is a large scale investigatory social project, then "The Yanchuan County Primary School Papercutting Art Curriculum" is a pilot art education project whose purpose is to research how ethnic culture and customs are transmitted through the generations, and how folk art can effectively return to people's everyday lives.  The education initiative is not simply about training to produce a specific papercutting pattern.  Rather it is that these seemingly simple papercutting patterns contain ethnic cultural values.  A myth, a story, they are all linked with Chinese traditional culture.  This transmission is effected through a visual method (papercutting) and passed down to the next generation.  This is an invaluable resource to the future development of Chinese culture.  A concern for the art education of traditional art forms is particularly important in our commercialized and material society.  Through the practice of papercuttings it is possible to teach the long history of Chinese aesthetics, as well as its ethical and social values.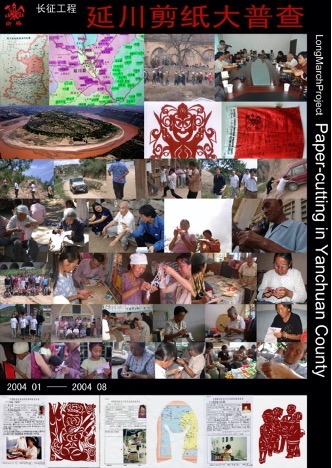 Project Structure                             
Project consultant:  Jin Zhilin  Professor Central Academy of Fine Arts, researcher folk art
Project director:     Lu Jie  director Long March Project
Executive director: Xiao Xiong  Artistic director  Long March Project
Official Leader Group:
Director:            Yan Chuanzhu  Vice-mayor Yanchuan County
Vice-director:   Xiao Xiong  artist director Long March Project
                            Gao Hebin  Yanchuan County Office Manager
Committee Members:
Zhang Zhenhong    Chief Education Department, Yanchuan County
He Ping                 Chairman Yanchuan County Yellow River Cultural Development and Preservation Association
Yang Zhulin           Deputy director, Education Bureau  Yanchuan County
Liu Fuxiang            Director, Youth Activity Center, Yanchuan County
Yang Guoqiang      Director, Education Department, Yanchuan County
He Siming              Principal, Yanchuan County Number Two Middle School
Bai Cuicui              Principal, Yanchuan County Beiguan Elementary School
Guo Shengjun        Principal , Central Middle School Tugangxiang Yanchuan County
Ma Yansheng         Principal, Yongping Town Central Elementary School, Yanchuan County
Project office:
Manager:               Yang Zulin 
Deputy Manager:  Liu Fuxiang
Project Advisory Board:
Qiao Xiaoguang     Director, Immaterial Cultural Legacy Institute, Central Academy of Fine Arts
Dong Sanqiao        Director, Immaterial Cultural Legacy Institute, Sha'anxi Province
Liu Pingan             Dean, Lu Xun Art School, Yan'an University
Feng Yanming        vice-Dean, Lu Xun Art School, Yan'an University
Guo Qingfeng        Researcher, Local Culture Research Center, Xi'an Art Academy
Feng Shanyun        Researcher, Yanchuan County Folk Art Research Center
Gao Fenglian         Artist
Local Professional Team:
Liu Jieqiong, Liu Xiaojuan, Feng Ruimei, Guo Lingling, He Cailian, He Caihong, Feng Caiqin, He Xiuzhen, Guo Ruixian
Project Schools:
Yanchuan County Number Two Middle School, Yanchuan County Beiguan Elementary School, Central Middle School Tugangxiang Yanchuan County, Yongping Town Central Elementary School, Yanchuan County