Yanchuan Survey | Display
The Great Survey of Paper-cutting in Yanchuan County
Location: 25000 Cultural Transmission Center
Time: August 14, 2004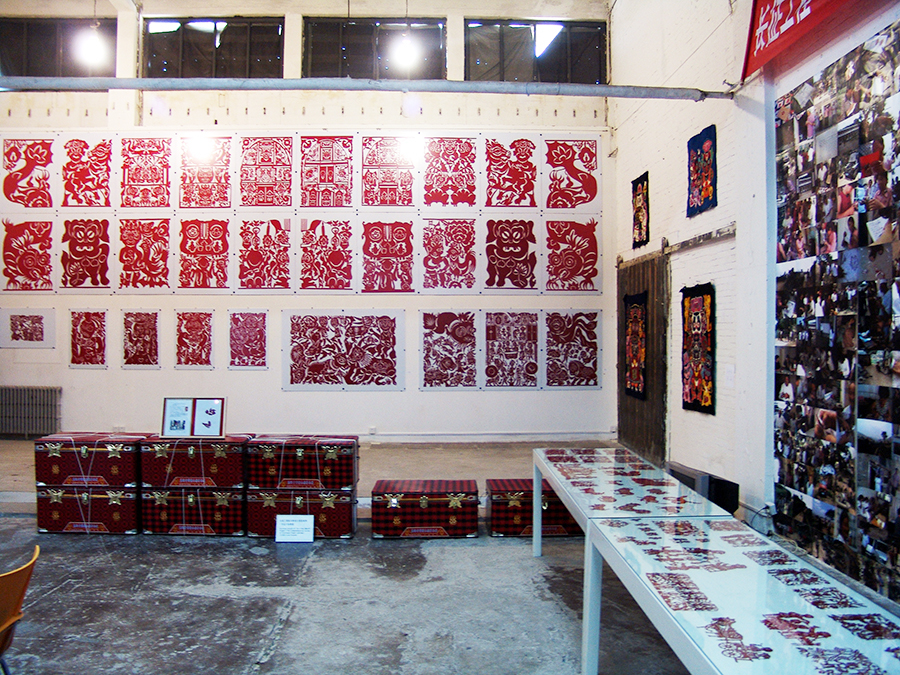 This exhibition opens on August 15; however, there will not be an opening reception or a set closing date.
The Exhibition is Divided into 3 Parts:
1   Yanchuan County – On New Years 2004, the Long March team arrived in Xiaocheng Village, Tugang District, Yanchuan County, Yan'an Region, of Sha'anbei (northeastern Sha'anxi Province), and established a new "Long March Space" in a yaodong (traditional cave dwelling).
2   Paper-cuttings – On display are large-scale paper-cutting works by Gao Fenglian, a resident of Baijiagou Village, Yanchuan County. Gao Fenglian large-scale paper-cutting artwork
3   Survey – Present here at the center the currently ongoing Long March project, "The Mapping of Yanchuan Paper-cuttings." This project is co-organized by the Long March and the Yanchuan County government, and is a thorough survey of the county's 180,000 people that uses an understanding of the current situation of the art form of paper-cuttings in the basic unit of today's society to gain deeper insight into the relationship between contemporary art and public space. Currently, the Long March team is still in Sha'anbei continuing with the arduous fieldwork. Meanwhile, at the Beijing Dashanzi Art District, we will use video footage, sound recordings, images, texts, and objects to construct a link to between the "Long March Space" at Factory 798 and the "Long March Space" in Sha'anbei. Because the survey is not yet completed, what is on display is the process itself, and not the survey's outcome.