Stage IV | Rehearsal & Theatre
Ho Chi Minh Trail
August – December 2010, Long March Space, Beijing
October 2010 – January 2011, "Rehearsal", 8th Shanghai Biennial, Shanghai Art Museum, Shanghai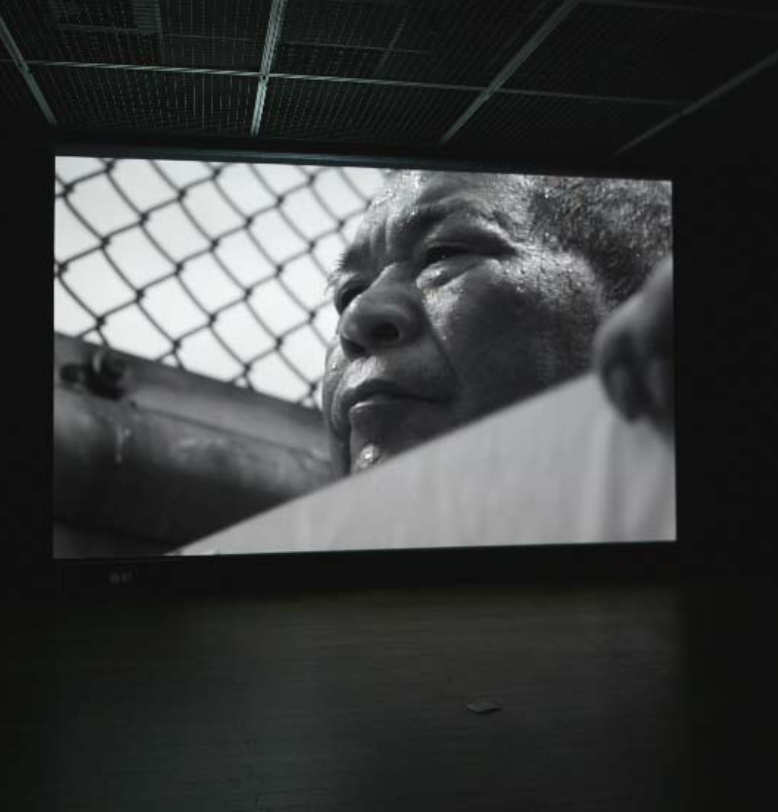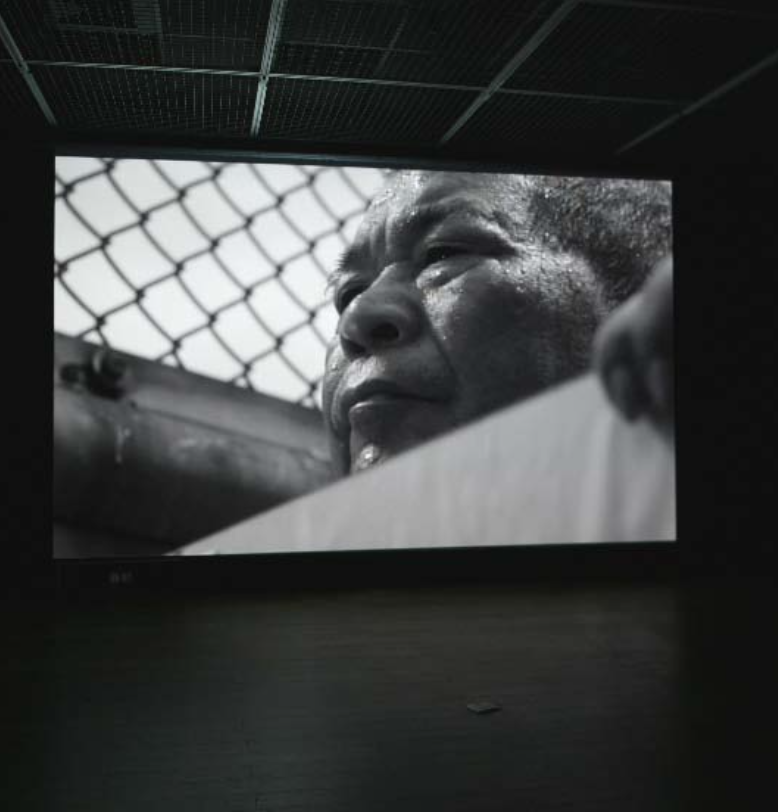 Chen Chieh-jen, The Route, single channel video, 2006, as seen in the 8th Shanghai Biennial, 2010
Nowadays, the ideological narrative of post-cold war has transformed into a comedy, whereas the 'global-local' ploy of capitalism has been turned to a soap opera.
Five decades ago, the Ho Chi Minh Trail once bound together a common idealism and shared historical imagination. In today's postcolonial and post-revolutionary world, the trail has been relegated to the dusty storage of stage props of the Cold War era. When long marchers set feet on this trail in attempts to reactivate the network's latent powers of surpassing boundaries, they find that this once vital conduit of the Cold War system has been fragmented, procured and monopolized by the spectacle of global capitalism.
Ho Chi Minh Trail is a renaming of Long March Project; it is not a continuation or extension of A Walking Visual Display (2002), instead it is conceived with critical reflection of the failures and successes of our previous endeavors. Initiated in 2008, The Ho Chi Minh Trail project is divided into six stages of realization, including field research (2008 – 2009), educational residency (July 2009), physical journey (June to July 2010), 'Rehearsal' (September to November 2011) and 'Theatre' (October 2010 to February 2011) and the project's ongoing database 'Knowledge of the Ignorant'. The project's 'Rehearsal' and 'Theatre' stages constitute the first act of the 8th Shanghai Biennale 'Rehearsal.'
As a whole, the Ho Chi Minh Trail project is a rehearsal, which implies a call to arms of ideas and expression, an action derived from form, and criticism and self-criticism administered between the intellectual left, artists and curators. It attempts to suspend and anatomize their roles, a reverse engineering of artistic production. In a day and age in which the capitalist cultural industry leaves no stone unturned, we aim to rehearse rather than produce. Our act of 'rehearsal' is the way of journeying on the Ho Chi Minh Trail.
"Rehearsal" (Act I), Long March Space, Beijing
Time: Sep. 4 – Nov. 14, 2010
Location: Long March Space, Beijing
Artists: Chen Chieh-jen, Liu Wei, MadeIn Company, Wang Jianwei, Wu Shanzhuan, Zhang Hui

Liu Wei,

Merely a Mistake, 2010

Chen Chieh-jen,

On the Empire's Borders – My Guerilla-style Art Project Report, 2010
Wang Jianwei, Output of the Labor Force on Timeline, 2010
"The starting point of Output of the Labor Force on Timeline is based on a true report: a 16 year old teenager from rural China went to the city one day. Naturally inclined to retreat from reality, the boy was only able to find his true social place in fantasy and internet games. In his fictitious world, misconceptions and misunderstandings were foundations to human behavior, while reality and illusion were perfectly synchronized. In the end, murder in his fantastical world became a true incident."

Wang Jianwei,

Surplus Value, 2010

MadeIn,

Spread (20100904), 2010

"The Spread series is all about 'realism.' Pretty much all the images, shapes, and ideas come directly from the media. What this series represents is our relationship with tthe media, our attitude towards it, even how we grow with it. All of this, these cartoons, fabrics, installations, sculptures thatyou see here, and those abstract installations and paintings, they all try to represent a single basic idea, which is using the media as a medium, using the media to create media."

Zhang Hui,

Open Ground / Clear Skies Turning Cloudy, 2010

To Zhang Hui, visual experience is not only one of fine arts, but one that has been trained by the eyes. It sends people into deep thinking and drops hints, affecting the way people view the world. He seeks to the largest extent possible to dissect such experience and examine the relationship between how hints are given and how they are taken by practicing painting.

Wu Shanzhuan,

i=per·pro·c·c·c (i: imagination, per: perspective, pro: projection, c: cloud), 2010
"Rehearsal" (Act I), 8th Shanghai Biennial, Shanghai Art Museum, Shanghai
Time: Oct. 24, 2010 – Jan. 23, 2011
Location: "Rehearsal", 8th Shanghai Biennial, Shanghai Art Museum
Artists: Chen Chieh-jen, Liu Wei, MadeIn Company, Wang Jianwei, Wu Shanzhuan, Zhang Hui

Liu Wei,

Merely a Mistake II, 2010

"To fit these things into this space, I piece them together, even scoop out holes. Anything in this area will be sucked in and will generate meanings, and when that happens, the so-called artwork is diluted, and even disappears. On the suraface, it seemed that design in the socialist era took away people's indivudality, but all that was actually lost was a label which had long been used to define them. And what emerged was a greater collective spirit and strength."

MadeIn,

Must Act, 2010

In this media age, the real world is no longer important What we deal with is a reality made up of images processed by the media. And that reality now plays a major role in world events.
Wu Shanzhuan,d=mr2,2010
Zhang Hui,Relief, 2010
What determines the visual experience? How does one decide what to do and how to view things? Zhang's paintings are not 'what you get is what you see' –not even compensating the visual defects with technology, but are focusing on how you look at the world–which of course depends on your cultural accomplishment, knowledge base, judgement–and the depth you desire to find out in things you see.